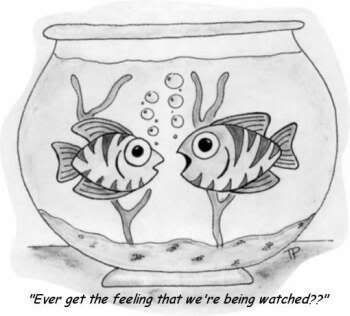 I was cycling at the gym the other day when the guy on the next bike started chatting. (The etiquette of working out is a whole other topic on which I'd love to rant but, at least for now, won't.) I removed an earbud, and he asked what I was listening to.
'An audiobook', I puffed.
'You and your books!' he said. 'You're always reading.'
How did he know I was always reading? I was stunned. I could have sworn I'd never seen the guy in my life. Suddenly I felt very visible. Could people at the gym see me, even with my head down under a cap and my mind lost in the current playlist/podcast/(audio)book? I'd always figured that since I didn't notice them, they didn't notice me.
It got me thinking about how we can make an impression on people, even when we don't realise it.
Like the guy performing nasal excavation at the lights who thinks that because he's in his car, we can't see him.
Or the parent who laughs at some obnoxious comment by their 3-year-old, saying 'I don't know where she gets it from'. She gets it from you, dude; you talk like that. Just because you're not talking to her doesn't mean she's not paying attention.
Or people who elbow and shove their way onto peak-hour trains as if it's the running of the bulls and then demurely take their seats like they're Emily Post. Do they think that avoiding eye contact renders them invisible to the naked eye?
People notice us – what we say, what we do, how we act when we think no-one's looking. Without meaning to, we can be setting an example for kids, giving insights into who we are, even motivating others to copy us or be nothing like us.
One of my tricks for deciding what to do when I'm not too sure of myself is to imagine I'm on a reality TV show (it's the only time I have such fantasies – honest!). How would I feel if my behaviour were public? Proud? Ashamed? Wishing I'd added a coat of lip-gloss? It's a great way to work out who you want to be.
After the conversation with my bike-neighbour, I realised that people see us, no matter how oblivious we ourselves may be. Being on reality TV is a lot like real life. Except for the prizes.