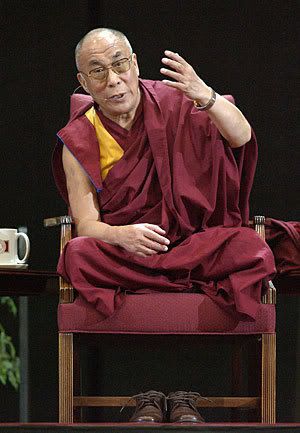 This program is to be broadcast in Australia on Sunday night. I understand it will include highlights of a panel discussion during the conference I attended in Sydney in June.
The Dalai Lama's characteristic wisdom, humour and humility shone trough (how many people are so willing to say 'I don't know'?). In terms of the other panelists, I thought the star was Madga Szubanski — she was warm, intelligent and insightful.
**Compass Program on Happiness & Its Causes 2007 – Sunday 19 August, ABC TV, 10.05pm**
"Everyone wants to be happy, but why is it a state of being that is so hard to obtain? There is little understanding of what actually leads to happiness, and in tonight's special episode of Compass, we explore the latest thinking on how it can be achieved. Compass host Geraldine Doogue heads a panel discussion during His Holiness the Dalai Lama's recent visit to Australia for the 2nd Annual Happiness And Its Causes Conference at Sydney's Darling Harbour. As one of the world's most notable and sought-after religious leaders, and winner of the 1989 Nobel Peace Prize, the Dalai Lama has spent years preaching the path to peace and happiness, attracting thousands of people from different denominations all over the world.
"Joining His Holiness are guest panellists: actor/comedian Magda Szubanski; Author and Executive Director of The Australia Institute Clive Hamilton; Canterbury MP and first Indigenous women elected to NSW Parliament Linda Burney; and Executive Director of the Black Dog Institute Professor Gordon Parker.Just how much can material possessions and wealth make you happy? Can ambition and success be the solution to a fulfilling life? How can parents raise happy children? Can pain and tragedy actually put you on the path to happiness? An episode that no-one should miss, this intriguing discussion is interwoven with thought-provoking insight and potentially life-changing ideals to live by that may leave you inspired and motivated to put yourself on the path to greater peace and contentment for years to come."